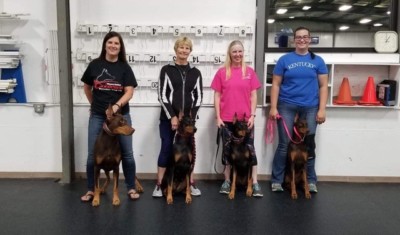 Another trial wrapped up.
I could NOT do this without the help of several members of the club.
Thanks to Kris, Uta, Laurie, Laura, Ron, Julie, for all your help.  Also had drop ins of Sharon & Ruthie
It was a wonderful event, they had a record number of MACH's, PACH's, PAX ( 9 total!!!!)
So we need more Championship bars and ribbons for next year!!!
Working with Queen City is a breeze!  They have such a wonderful facility, a well oiled machine, course building, great support for workers with raffles and FOOD!!
Looking forward to next year.
Our big time winner for HIT on both runs on Sunday was Julie and IZZY , CONGRATS!!! great smooth runs!!!